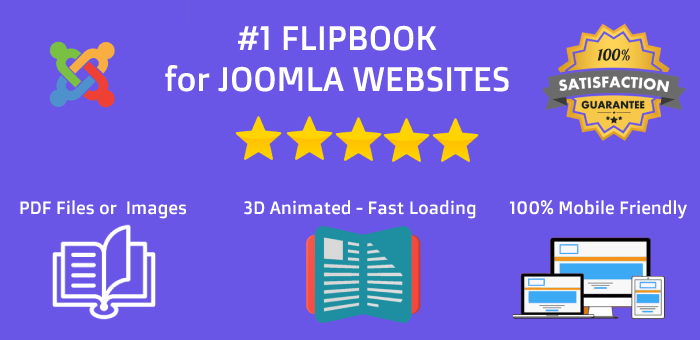 Click for the Demo & Screenshots
Joomla Flipbook Extension will help you showing PDF files and / or Images as a perfectly working 3D filpbook.
Version 2.0.9 is the current release, and the most recent update was made on November 22, 2023.
No Coding Required

No coding knowledge is required!
Install and follow the steps that came with the package. You will complete the setup in minutes.
You do not need to open the files. Everything can be modified via extension admin panel
You can set the dimensions, colors, designs from extension admin panel easily.
Super Easy Installation and Setup

You can install and setup in just a few minutes by following the steps.
Each step of the installation is explained in detail. Every section has note and descriptions.
Guaranteed work! Guaranteed price!

Flipbook Extension is developed by Joomla Extension Developer.
Offered with support and functionality guarantee.
If it does not work on your Joomla installation, request refund, we refund same day!
Joomla 5, Joomla 4 and Joomla 3 Compatible

Joomla Flipbook Extension is compatible with Joomla 5, Joomla 4, and Joomla 3. As committed developers, we are dedicated to providing ongoing support for upcoming versions and any changes that may arise.
Fast Loading & Mobile Devices Compatible Flipbook

Joomla flipbook extension loads quickly on all types of devices, especially mobile. It is fully compatible with mobile devices and tablets.
PDF file(s) to Flipbook

You can create flipbook from PDF files automatically. Select the PDF file you want to show as flipbook and the extension makes the rest.
Images from Folder as a Flipbook

Upload your images in to a folder and select the folder. Extension creates the flipbook from the images of selected folder automatically.
Selected Images as a Flipbook

You can select the images you want to show as a flipbook. By using this functionality you can select the images you want and exclude the ones you don't want.
Multi-Catalog display

Specially designed view to show multiple flipbooks on one page. By selecting this, you can show as many PDF or Image Files as you want on a single page.
Lightbox View - Button Trigger

You can create button to trigger flipbook as a lightbox
Lİghtbox View - Text / Link / CSS Element Trigger

You can create text, links or any HTML element to trigger flipbook as a lightbox
RTL Languages Supported

Right to left flpibook for RTL text direction
Customized Deep Linking

You can set hashtags and link to specific page from the URL, for example open book at page 16 http://yoursite.com/flipbook/#page16
Swipe Enabled

Mobile friendly swipe enabled for a better user experience.
Single Page Mode

You can enable single page mode
Custom CSS

You can add custom CSS and customize any design easily
Custom JS Callouts

You can add custom JS without opening the core extension files